It may be illegal for businesses to encroach on sidewalk pavement, but it is incredibly prevalent.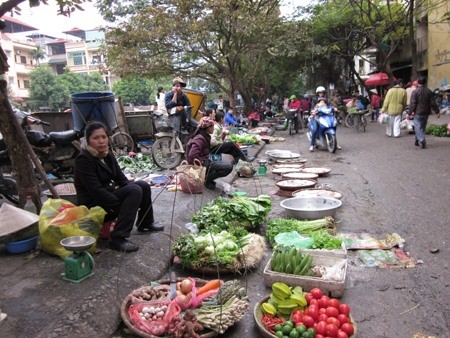 All over Hà Nội's inner districts, one can see pavement turned into private business sites or parking spaces, especially in crowded areas like the Old Quarter, central streets, resettlement apartments, and schools. – Photo baomoi.com
All over Hà Nội's inner districts, one can see pavement turned into private business sites or parking spaces, especially in crowded areas like the Old Quarter, central streets, resettlement apartments, and schools, etc.
The most frequent offenders are food stalls or small streetside restaurants, since the owners always try to expand their business to available public space in pursuit of additional income.
On Đội Cấn Street (Ba Đình District), from afternoon well into late night, pavement becomes thronged with sets of tables, stools, people and, of course, their vehicles. There is barely any room left to breathe, let alone walk.
"These 'pavement stalls' only open from sundown. The owners have all paid informal "fees" to the ward's authority to look the other way and continue operating," explained a food stall owner. However, on record, authorities deny the existence of such fee.
Violation is even more serious in the tourist Old Quarter area: the so-called 'golden estate' evidently extends to include pavement. "A small piece of the pavement claimed for selling tea or parking can provide for an entire family. The pavement is truly our livelihood", said Phương Dung – a resident at Cầu Gỗ Street in Hà Nội.
Likewise, the sidewalks on other tourist streets like Hàng Đào – Đồng Xuân and Mã Mây – Hàng Bạc get transformed into giant gaudy showcased of different goods for sale like shoes, clothes, and cosmetic products.
Street vendors/hawkers are also repeated offenders.
These hawkers have the most basic and portable means of livelihood—like a small cart, carrying pole and basket—making it easier for going from place to place at any given time.
The 'chase and run' commotion—with the runner being the street hawkers and the chaser being the enforcement force —is an unbecoming scene that loops over and over again to the great displeasure of many people.
"Shop owners do not welcome us, and the authority's job is to drive us away; we have to be constantly on the move and on the watch. I am aware that sidewalk encroachment is illegal, but since we can't rent a place, we resort to selling on the pavement," Bùi Thị Loan, a street fruit vendor said.
For street vendors, their excuse is that they must do what they can to make a living – a very sympathetic justification.
Due to economic hardship and the seasonal nature of agriculture, certain workers have no choice but to come to Hà Nội during the offseason and earn their livelihood on the capital's pavement.
Streets in the urban periphery suffer from the same issue, with the most serious wrongdoers being the auto wash and repairs shop. In close second are beer shops and restaurants.
Blocked sidewalks force pedestrians to walk on the streets, causing traffic jams. Despite nuisances, people are not too unhappy with the arrangement, since they can conveniently buy stuff, have meals or park right on the streets.
In 2014, Hà Nội implemented the program "Year of urban order and civilisation," with anti-encroachment laws and a renewed effort to reclaim pavement high on its agenda. This program struggled to little avail.
Difficult to tackle
"It's hard for local authorities to carry out inspections after office-hours, so infringement continues ," admitted Phạm Tuấn Long, Vice Chairman of the Hoàn Kiếm District People's Committee.
"The law enforcement force in charge of pavement control is severely shorthanded; a local team usually comprises of a dozen members, while transgression takes place all the time. When enforcement arrives, vendors run away or pack up their merchandise. Once the enforcement force leaves, things revert to the way they were", explained Vũ Quý Trung, Deputy Head of the Urban Management Office of Cầu Giấy Dist.
Currently, relevant wards' people's committees have taken charge of managing the pavements and maintaining urban order. At the same time, they are tasked with collecting tax on the area licensed to businesses—the very businesses that will encroach on the streets. This vicious circle undermines any effort to preserve order.
Authorities themselves understand that pushing uncompromising sanctions will disrupt people's lives and livelihoods, and social grievances are bound to follow.
"To truly eliminate the problem, commitment and accountability are required of the local authorities. Law promulgation aiming at raising awareness needs to be done in conjunction with fair, transparent penalties, and the emphasis needs to be put on the former so encroachment stops voluntarily. Plus, authorities of all levels will have to research and revise current street planning", said deputy head of the municipal Party Committee's Publicity and Education Department, Trần Xuân Hà.
Citizens are also encouraged to purchase products at supermarkets or permanent markets, which will reduce street encroachment caused by peddling and parking. However, the planning of these buildings will need to be seriously —with convenience for the people a priority—or else it will not be effective.
Street peddling has been a 'historic constant' in Hà Nội ever since Thăng Long era. After 1000 years, its practices don't seem to have diminished but in fact, its problematic fluorescence persists in defiance of official public policy and of the vision of a civilised, modern urban landscape.
The question remains whether it is now time for the old ways to be abandoned.