Preliminary statistics show that police had uncovered 34,636 cases of cigarette smuggling with more than 20.38 million packs of various kinds of cigarettes since 2012 to the end of September 2014. However, cigarette smuggling continues rising and provoking authorities.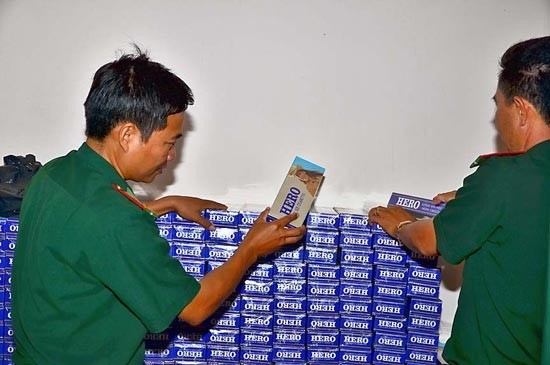 Tay Ninh Province's border police seize smuggled cigarettes. (Photo: SGGP)
An assessment by the Vietnam Tobacco Association and reports by provincial police offices show that the amount of smuggled cigarettes into Vietnam in 2014 was estimated above 20 million packs. Hot spots for cigarette smuggling include Quang Ninh, Hai Phong, Ha Noi, Quang Tri, Da Nang, Can Tho, Tay Ninh, Long An, An Giang, Dong Thap, and Ho Chi Minh City.
Traffickers usually gather cigarettes at warehouses along borders in neighboring countries then smuggle cigarettes into Vietnam by high-speed vehicles on both water and land. They also split cigarettes into small packets to easily transport and evade hot pursuits of police.
As traffickers always use high-speed vehicles to transport smuggled goods, Mr. Nguyen Ngoc Tuan, deputy head of Anti-smuggling and Investigation Department under the Vietnam Customs, proposed that the government should immediately equip advanced means of transport for police at smuggling hot spots.

Cigarettes traffickers also take advantage of loopholes in current law. Although police had uncovered 34,636 cases of cigarette smuggling from 2012 to the end of September 2014, police were only able to take criminal proceedings against 369 cases with 488 arrestees because traffickers are only prosecuted as criminal cases for smuggling more than 1,500 packs of cigarettes by law.  Meanwhile, traffickers split their goods when transporting, therefore, the amount of smuggled goods was not enough to constitute them as criminals.
Ho Chi Minh City police are highly appreciated for achievements in the fight against cigarette smuggling. However, according to Major General Phan Anh Minh, deputy director of Ho Chi Minh City Police Department, police have just punished hirelings instead of kingpins of cigarette smuggling gangs.
Experts said that although the temporary import and re-export activity of foreign-made cigarettes creates conditions to develop commercial services, the money collected from this activity is not able to make up for the cost for road maintenance and anti-smuggling. Meanwhile, this activity is intricate and contains high risk of smuggling.

The main reason for the increase of cigarette smuggling is that residents living along the border, because of their daily bread, join hands with smugglers to transport cigarettes into the country. Mr. Minh said that most people living along the border are farmers. After industrial parks were built here, they no longer have land for farming so they had to join cigarette smuggling gangs to get money. Therefore, settlement of livelihood for border residents plays an important role in the fight against cigarette smuggling.
Mr. Tuan also proposed that the government and local authorities should have policies to create more jobs in border areas