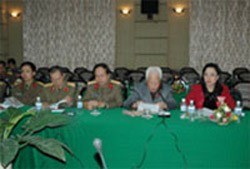 Generals are at the seminar
The echo of the country's glorious history is sounding even today, strengthening the process of national reform and renewal. That was the main thrust of the dozens of speeches delivered at a military conference held on Sunday for the sixtieth anniversary of National Resistance.
Everyone present was full of praise for the Communist Party and the late President Ho Chi Minh and hailed the gathering as a superb opportunity for nurturing a love of Viet Nam in the hearts of young party members.
The dozens of army generals who spoke all said the lessons of solidarity were being successfully applied in the period of reform.
The conference was organized by the Defense Ministry and the National Institute of Social Sciences and chaired by Senior Lieutenant General Le Van Dung, member of the Communist Party's Central Secretariat and director of the General Political Department of the People's Army.
General Vo Nguyen Giap, leader of the northern forces in the war, sent a written message of support.