After a week-long journey from the province of Cao Bang, a torch relay entitled "Vietnam's bright torch following the steps of Uncle Ho" arrived in Hanoi.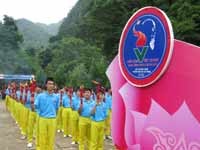 The opening ceremony of the torch relay in Cao Bang province.
This is the second time the Ho Chi Minh City Television Station organized a torch relay to welcome the anniversary of the August Revolution (Aug. 19) and National Day (Sept. 2).
At 6 p.m., Aug. 14, the torch was carried from Pac Bo Cave in Cao Bang and was placed in a tower in front of Ho Chi Minh's Tomb in Ha Noi.
The torch will travel through 36 provinces and cities from Cao Bang to Ca Mau. Its final destination is the Ho Chi Minh Museum in Ho Chi Minh City on Sept. 2.
Speaking at a ceremony to receive the torch, President Nguyen Minh Triet applauded the Ho Chi Minh City Television Station for organizing the torch relay. He also expressed his appreciation of athletes and volunteers across the country for their participation in the event.
The ongoing movement of "study and follow Ho Chi Minh's moral example" is of great significance in terms of education to every party member and citizen of the country, said Mr. Triet.
The country is now facing a lot of difficulties, but under the leadership of the Vietnamese Communist Party, the people will unite to overcome challenges to develop Viet Nam into "a strong country with wealthy people and a just, democratic and civilized society," he said.