The agricultural sector is expected to face serious challenges when the Trans-Pacific Partnership takes effect, which would require it to restructure and invest in technology to improve its competitiveness, a seminar heard in HCM City yesterday.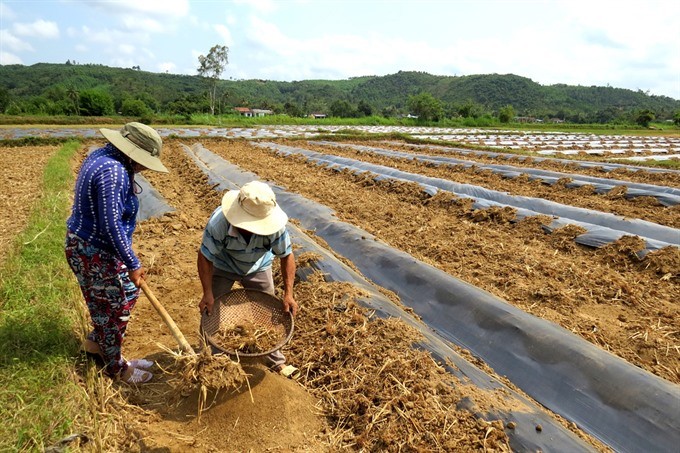 Farmers of central Phú Yên Province's Tuy An District in a watermelon field. Firms must meet stringent requirements related to hygiene and food safety standards, origin of products, and other trade barriers to enjoy export tariff benefits from the Trans-Pacific Partnership. (Photo: VNA/VNS)
Trần Tấn Quý, deputy director of the HCM City Department of Agriculture and Rural Development, said the trade deal would bring investments to Việt Nam, opportunities for the farm sector to boost exports and access new technology, and create jobs, but the competition would be fierce in both the domestic and export markets.
Trade tariffs would come down but barriers would go up, he said.
Prof Dr Nguyễn Văn Ngãi, head of Nông Lâm University's economics faculty, agreed, saying: "In general, the agricultural industry will face more challenges than opportunities since our agricultural industry is at a disadvantageous position compared to other TPP member countries."
Small scale of production, low productivity, high costs, and obsolete technologies detract from the sector's competitiveness, according to Ngãi.
The country needs to change the structure of its agriculture and perform 'surgery' on it to see which sectors have competitive advantages and which do not.
For sectors that do have advantages, such as fruits and vegetables, rubber, tea, coffee, and seafood, we need to mobilise resources for investment and development.
In case of sectors that do not have competitive advantages yet but have potential, like rice, animal and poultry breeding, all stakeholders must work to improve their competitiveness quickly.
"We should quickly exit sectors that both lack competitive advantages and the potential to develop in future. To improve the competitiveness of a sector, we must meet two basic targets - low production costs and high quality," Ngãi said.
Talking about the seafood sector, his colleague, Dr Đặng Lê Hoa, said with almost half of its seafood exports going to TPP member nations, Việt Nam expected the trade deal to further boost exports to these markets, especially its two main ones - the US and Japan.
But to enjoy the export tariff benefits, firms must meet stringent requirements related to hygiene and food safety standards, origin of products, and other trade barriers, she said.
"To capitalise on opportunities arising from the TPP, enterprises need to ensure quality and productivity are steady and improve their competitiveness, especially in terms of prices," she said.
Ngãi called for co-operation in agriculture to change the small scale of production.
There should be more investment in upgrading technologies and developing a closed production chain to reduce costs and improve quality, he said.
Meanwhile, the Government should strengthen the legal framework, speed up administrative reform and create a favourable environment for agriculture to develop, he said.
Restructuring rice sector
At a seminar held in Cần Thơ recently, the Crop Production Department said around 25 programmes costing VND7 trillion (US$313.9 million) would be undertaken under a project to restructure the rice sector by 2020.
The project focuses on planning and infrastructure development, switching from low-yield rice to other crops, research into hybrid strains, and mapping out rice development policies for the future.
In addition, the project will expand the large-scale production model based on market demand, boost mechanisation and processing, build brand names and establish links between various players in the chain to develop the market.
One of its major tasks is to develop irrigation systems and upgrade traffic and electricity networks for modern production.
The Cửu Long (Mekong) Delta, the Red River Delta and the south-central coastal region will need thousands of billions of đồng for the restructure.
Rice will continue to be grown on 3.8 million hectares to ensure food security.
Most of it will be high-quality varieties for both local consumption and exports.