The Department of Industry and Trade in the Mekong delta province of Tra Vinh on February 6 convened a meeting at Kim Hoa Commune in Cau Ngang District to give recognition to Tra Cuon village as a handicraft village, famous for its Tet cakes.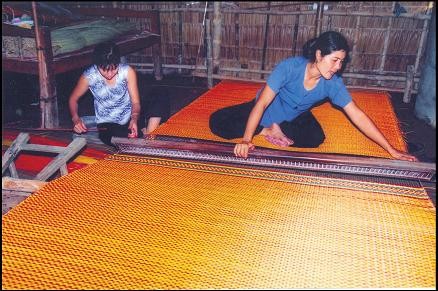 Khmer people in Ca Hom-Ben Ba village in Tra Cu District in Tra Vinh Province weave mats. The village has been recognised as a traditional handicrafts village
Established more than 40 years ago, the tiny village of Tra Cuon located along Highway 53 in Kim Hoa Commune of Cau Ngang District in the Mekong Delta province of Tra Vinh, is famous for its savory Tet Cakes (cylindrical glutinous rice cakes).
At that time, the village had only four small workshops to make the traditional cakes. 
Today, 124 households in the village are involved in cake making and more than 100 labourers are employed in this very lucrative business, which has brought great benefits to the people of the village.
Tra Cuon Tet Cakes are much more delicious and tasty because of their good quality ingredients that are carefully chosen; from the quality of glutinous rice for making the cakes to the variety of banana leaves for wrapping them.
The stuffing inside the Tra Cuon Tet Cakes is made of eggs of ducks that are allowed to openly feed off fields and meat of pigs that are fed natural feed. The cakes have brought fame to the village not only in the country but abroad as well.
Each year the village produces around 400,000 cakes of different varieties for the Mekong delta and Ho Chi Minh City markets, yielding an annual turnover of over VND12 billion.
So far Tra Vinh Province has recognised nine handicraft villages that are providing jobs to more than 10,000 local labourers.
68 per cent of the population of the village belongs to the Khmer ethnic minority group and the total income of the tiny village is only VND600 million per annum. However, households making Tet Cakes enjoy an income that is 20 times higher. Tra Cuon was recently recognized as the Tet Cake trade village by the provincial People's Committee.