Two-way trade and investment has been at the core of the remarkable growth in the relationship between Australia and Vietnam, with Vietnam now one of Australia's most important and valued trade partners in the Asia Pacific region, the Australian Consul General in Ho Chi Minh City said Wednesday.
Mr. John McAnulty was speaking at an Australia Day reception held at the New World Hotel Saigon.
"Trade between our two countries continues to expand rapidly, with total two-way trade for the financial year 2010-11 reaching AUD6.1 billion."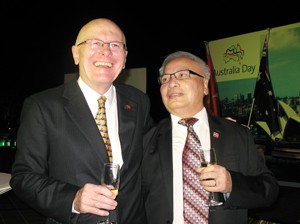 Australian Consul General John McAnulty (L) and a Vietnamese guest toast during the Australia Day reception Feb. 15, 2012 (Photo: Tuong Thuy)
He said 2011 was a busy year for the Australian Government in Vietnam "as we worked to grow and strengthen the relationship."
Education links between the two countries also remained strong in 2011, Mr. McAnulty added.
"Australia remains a leading study destination for Vietnamese students with more than 25,000 Vietnamese students studying in Australia and still more studying Australian programs here in Vietnam."
He continued with the hospitality industry. Tourist numbers continue to increase with 290,000 Australians visiting Vietnam last year, and increased numbers of Vietnamese visiting Australia, said the Australian Consul General.
The diplomat said the number of high Australian Government visits to Vietnam last year also demonstrated the strength of the Australia-Vietnam relationship.
"At the official level, last year marked the first visit to Vietnam by an Australian Governor General. In addition to the Governor-General, we had visits by the Minister for Foreign Affairs, the Minister for Trade and a number of Australian state ministers.
Mr. McAnulty, who took office in December last year, added, "This is my first Australia Day in Vietnam and it ushers in what I see as a particular exciting time in Vietnam-Australia relations as we approach the 40th anniversary of our diplomatic relationship next year."
He said that the Australian Government also acknowledged the contribution of Vietnamese Australians as so many were returning and investing in Vietnam and further strengthening the links between the two countries.
In the fiscal 2011-12, Australia's official development assistance for Vietnam is estimated up to AUD137.9 million.
Australia Day is January 26.