Minister of Transport Dinh La Thang on June 30 instructed investor and contractor of Noi Bai-Lao Cai Highway Project to speed up progress on the last two bids A4 and A5 to open the route for traffic on schedule.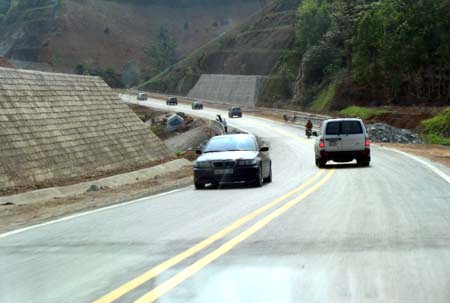 A built section of Noi Bai-Lao Cai Expressway (Photo: giaothongvantai.com.vn)
Thirty percent of A4 and twenty six percent of A5 have not completed yet.
Vietnam Expressway Corporation (VEC) should terminate contract with the South Korean Contractor KeangNam if they do not transfer money to conduct the project, according to Minister.
The above fund does not belong to the advance given by VEC for KeangNam to carry out the project.
In case the contract is ended, Minister Thang ordered VEC to confiscate VND200 billion (US$9.4 million) which KeangNam has offered as a guarantee of the project.
VEC chairman and director general will be rotated to other positions if the two bids are not completed by August 30 to open the whole highway for traffic.
KeangNam is doing procedures to transfer money for the project, said a VEC representative on late June 30.
The two bids will be unable to complete by August 30 as per schedule without specific solutions, according to Mr. Thang.