Minister of Transport Dinh La Thang on Tuesday said that he would take full responsibility for the proposed private vehicle ownership fee and the toll fee to ply within the city centre during rush hours.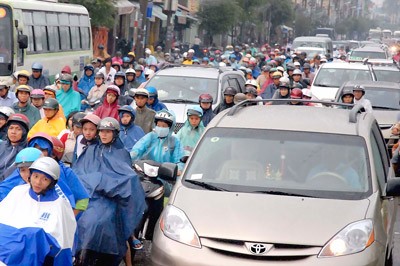 Will private vehicle ownership fee be able to reduce traffic jams? (Photo: SGGP)
Speaking at a regular meeting of the ministry in Hanoi, he said that the ministry had carefully calculated the fees before making the proposal. 
He made the statement in response to protests from residents and organisations who complained that the proposed fees were too high.
At the meeting, Minister Thang reaffirmed that the road maintenance fee will be collected from June this year as scheduled.
However, the private vehicle ownership fee and the toll fee to ply in the city centre will not be implemented this year.
The ministry has submitted to the Government a proposal for these two kinds of fees. After consideration, Prime Minister Nguyen Tan Dung will forward the proposal to the National Assembly Standing Committee for approval.
If the NA Standing Committee passes the two fees, the Transport Ministry will conduct a poll on the fee rates and give a time frame to begin toll collection.
In this latest project, the ministry has acquired opinion from residents, ministries and departments and reduced the proposed fee rates to minimise impact on residents, especially low income earners.
Private vehicle ownership fee and fee to ply in city centre during rush hours have been put forward by the Ministry of Transport in accordance with instructions from the Government, who wants to reduce traffic jams and congestion on streets.
Besides charging fees, the ministry has carried out other measures like mobilising capital from various sources to improve traffic infrastructure.
Related articles:
Businesses protest against private vehicle ownership fee
Private vehicles to pay annual charge: Ministry
Annual fee on private vehicles not feasible: Experts