Many important transportation works such as expressways and bridges in HCM City and the southern region have increased inter-regional connections and faster pace of development in the southern key economic zone, with HCM City as its centre.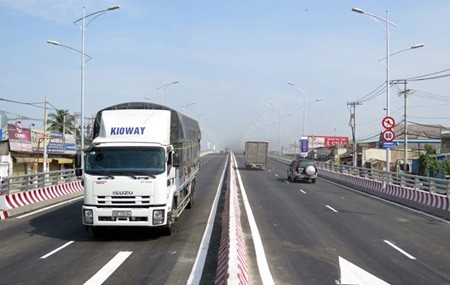 Vehicles on Highway 1 in Binh Tan District, HCM City. Important transportation works have quickened the pace of development in the southern economic zone. (Photo: VNA/VNS)
The city now has two completed highway routes, including HCM City – Long Thanh – Dau Giay and HCM City – Trung Luong. Under construction is the Ben Luc – Long Thanh highway.
The HCM City – Trung Luong highway links HCM City and the Mekong Delta region.
It opened in 2010 and helped reduce transport time and distance for many commuters and businesses.
The HCM City – Long Thanh – Dau Giay route, with a length of 55 kilometres, sees 28,000 cars and trucks travelling on the road each day.
In 2015, 9.6 million vehicles travelled on the route, and fee collections totalled VND615 billion (US$28 million).
The distance from HCM City to Long Thanh District, southern province of Dong Nai was formerly 45km with time for travelling at least one hour.
Now, with the expressway, the distance is 22km with only 20 minutes for travelling, according to the Viet Nam Expressway Services Engineering Joint Stock Company (VECE).
The time needed to travel from HCM City to Vung Tau is now only 1.5 hours, with the distance reduced from 120km (taking 2.5 hours) to 95km.
The expressway has allowed a savings of two hours with 20km less in distance and 20 – 30 per cent reduction in expenditures on the HCM City – Long Thanh – Dau Giay route.
The expressway has created favourable conditions for transportation enterprises by increasing trade transactions among HCM City and neighbouring provinces, especially for commodities from Cat Lai Port in District 2 to industrial parks in Long Thanh and Nhon Trach Districts in Dong Nai province, as well as passenger transportation from Mekong Delta provinces and HCM City to tourist destinations like Vung Tau, Phan Thiet and Da Lat.
Tourism companies have said that tourism growth increased significantly in HCM City, Dong Nai, Binh Thuan, Lam Dong and Ba Ria – Vung Tau provinces thanks to the expressways.
At the end of August, Tien Giang and Long An provinces are expected to be connected after the My Loi bridge over the Vam Co River is opened.
The new route through My Loi bridge would reduce by 50 km from the Mekong Delta province to HCM City.
"This has created a new route in the Mekong Delta province along with the National Number 1 road," Nguyen Van The, Party Secretary of Soc Trang Province and former deputy minister of Transport Ministry, was quoted as saying on the Government website.
In May, the Co Chien bridge opened, reducing the distance by 70km from HCM City to Tien Giang, Ben Tre, Tra Vinh and Soc Trang provinces.
Seven bridges, Can Tho, My Thuan, Rach Mieu, Ham Luong, Nam Can, My Loi and Co Chien, connect HCM City with the Mekong Delta region.
Next year, three more bridges, Vam Cong, Cao Lanh and Dai Ngai, will be completed.
The Ministry of Transport has recently started building the Lo Te - Rach Soi route to connect Can Tho city and Kien Giang province with total length of 53.3km. This will be a major route in the Mekong Delta region, along with the National Road.
Aviation sector
According to the Viet Nam Aviation Corporation, aviation cargo demand for the southern key economic zone through HCM City has accounted for 46 per cent of current national need.
Tan Son Nhat international airport, with 400 landings and take offs every day, is the busiest airport in Viet Nam. Last year, the airport welcomed 25 million passengers, an increase of 4 million compared with 2014.
In 2015, the airport successfully implemented 600,000 flights, an increase of 18 per cent in comparison with the year before.
There are four domestic airlines, including Viet Nam Airlines, Vietjet Air, Jestar Pacific and Vasco, offering local and international flights along with 43 international airlines at Tan Son Nhat International Airport.
Domestic airlines have opened many new routes from HCM City to the central provinces of Thanh Hoa, Phu Yen, Gia Lai, Binh Dinh, Quang Binh, Quang Ngai and others.
Thanks to development, cultural and economic exchanges among different regions have been promoted.
To meet development needs, the Ministry of Transport has approved adjustments to the detailed master planning for Tan Son Nhat Airport up to 2020 with a vision to 2030.
The airport will be expanded to eight hectares to receive 25 million passengers and 1 million tonnes of cargo each year, with 82 parking places for airplanes.
During the 2016 – 2020 period, total investment for aviation is expected to be VND 87 trillion ($4 billion).