The Vietnam Association for Victims of Agent Orange/Dioxin (VAVA) and the Ho Chi Minh City Cinematography Association will hold a trans-Viet Nam fundraising tour through 15 provinces and cities beginning Wednesday lasting through September.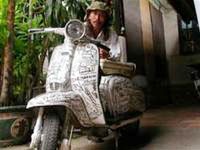 Actor Quang Dat and his celebrated Lambretta (Photo: TT)
There will be art performances and musical programs at each destination, where actors and actresses will meet with local artists. There will also be an art auction to raise funds for AO victims.
Actor Quang Dat will join the tour on his old-time Lambretta which has been signed by 400 Vietnamese and foreign artists, recognized a Vietnamese Guiness record in May 2006.
They will set off Wednesday at the Dam Sen Cultural Park in Ho Chi Minh city.