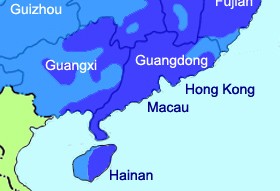 The photo shows the region that will be hit by the tropical depression.
A tropical depression over the East Sea (South China Sea) is moving northeast away from Viet Nam and should cross into China between the island of Hainan and Guangdong province.
At 7 pm on August 24 the low was centered on 20.5˚ N, 112.5˚E, roughly 270 kilometers from China's Lei Zhou Peninsula, and bringing winds of up to 60 kph, the Central Hydrometeorology Center said.
The strong winds brought showers to several parts of northern Viet Nam on Thursday afternoon.
As autumn approaches, the low-pressure system is amplifying the seasonal shift and the northern provinces are becoming slightly cooler in the mornings and evenings.