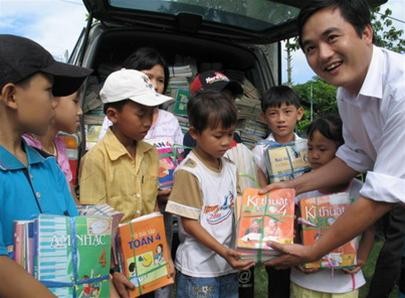 Schoolchildren in the Mekong Delta receive texbooks from the volunteers
Volunteers of the Green Summer Campaign are doing their utmost to improve the lives of people in the Mekong Delta region. Tens of bridges under construction and a generous donation of thousands of textbooks are what they have done in the campaign.
Over 200 volunteers of the Green Summer Campaign are building as many as 20 bridges in the Mekong Delta provinces of Vinh Long, Dong Thap, Hau Giang, Kien Giang and Ben Tre.
The bridges, around 15 to 30 meters long and 1.5 to 3 meters wide, are constructed under the sponsorship of SYM Viet Nam (a motors manufacturer) and local authorities of around VND600 million. 
All the bridges are scheduled for completion in September, facilitating local transportation.
In addition, up to 500 sets of textbooks were awarded to poor children of some elementary and secondary schools in the provinces of Vinh Long and Dong Thap.
It is reported that thousands of books will soon be donated to schoolchildren in other provinces of the Mekong Delta.

Related Articles:
Foreign Students Show up in Green Summer Campaign
Green Summer Campaign to Start Mid July