At about 6am on December 14, a horrific road accident at the crossroad of Nguyen Van Linh and Huynh Van Luy Streets in Phu Hoa Ward in Thu Dau Mot Town in Binh Duong Province killed two people on the spot.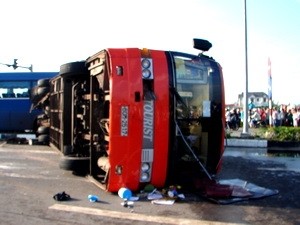 At the scene of the accident
A bus carrying 50 workers was suddenly hit from behind by another bus at the crossroad. 22 people were hospitalized in general clinics for emergency care. Most of them had suffered critical injuries.
The collision caused two female workers to be thrown out of the bus and crushed to death.
Rescuers had to use a crane to pull out their bodies.
The workers were from Forster Company in Industrial Zone VSIP 2 in Binh Duong Province, and were on their way to the factory.
The deceased are yet to be identified.
Authorities are urgently investigating the cause of the tragic accident.