Typhoon Conson, which had earlier brushed the southeastern Chinese island of Hainan and pounded the Philippines, hit northern Vietnam and caused torrential rains on Saturday afternoon and evening, initial reports said.
Strong winds from the typhoon swept out Hai Phong, Thai Binh and Nam Dinh in the afternoon, while Ha Tinh and Quang Binh saw downpours, up to 180 millimeters.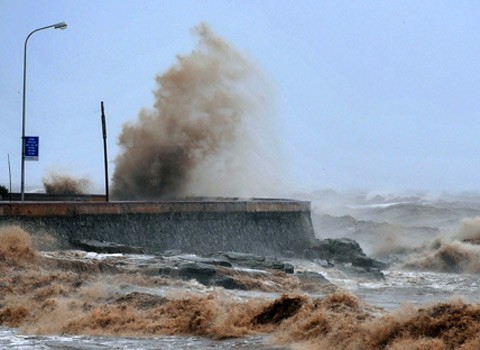 Rough sea seen in Do Son Town, Hai Phong, northern Vietnam in the afternoon of July 17, 2010 (Photo: VNExpress)
Vietnam's national weather bureau said the storm center would hit provinces from Hai Phong to Nam Dinh this evening.
Northern coastal provinces have evacuated residents out of areas of danger.
Agricultural minister Cao Duc Phat was present in Thai Binh Province on the Saturday morning to direct flood and storm preparedness efforts.
The typhoon would weaken to a tropical low pressure after making landfall, according to the national weather bureau.
Northern provinces are conducting preparedness for possible flooding triggered by the typhoon.
AFP said the typhoon had left at least 67 people dead in China's Hainan and the Philippines.

The news firm said Philippine authorities warned the toll could rise further with dozens missing days after Conson struck the main Luzon island, including the capital Manila, on Tuesday with a ferocity that caught weather forecasters by surprise.

The typhoon destroyed thousands of homes, sank or damaged dozens of boats, uprooted trees that crushed people to death and snapped power lines in the Philippines, according to AFP.

In China the storm killed at least two people, tore down trees and ripped up electricity pylons when it hit Hainan Friday evening, AFP cited local officials.