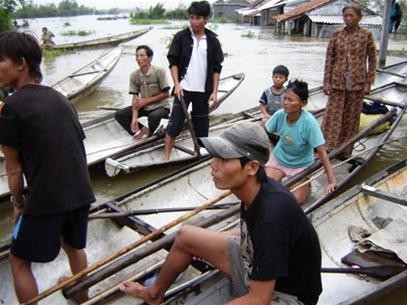 Residents of Hue wait for food, drinking water and medicines from the local health department on Monday
The death toll in Viet Nam from Typhoon Xangsane rose to 30 on Tuesday and the injury count into the hundreds, the national committee for flood and storm protection announced today. The government has responded with a large donation to relieve the stress on the giant storm's victims.
Xangsane, which had earlier claimed hundreds of lives in the Philippines, left 26 dead in Da Nang alone, officials said. One person is still missing in the central coast city, which bore the brunt of the typhoon.
Property damage from Sunday's storm is estimated at VND6.5 trillion. More than 6,200 homes were razed to the ground, 5,200 hectares of paddy and cropland and 278 hectares of fish farms were destroyed, and up to 786 boats already anchored ashore were wrecked beyond repair.
On Tuesday Deputy Prime Minister Nguyen Sinh Hung said he greatly appreciated the proactive preparations for what had been arguably the strongest cyclone to hit Viet Nam in decades.

He went on to praise the cooperation among local authorities in evacuating 200,000 people and thereby keeping the number of fatalities down.
On the same day Mr. Hung ordered the local authorities to provide cash, emergency rations, potable water and temporary accommodation for the victims.
Local volunteers and border guards were urged to help rebuild medical clinics, hospitals and schools in the affected areas. Public services in the central coast provinces should be restored soon, the Deputy PM said.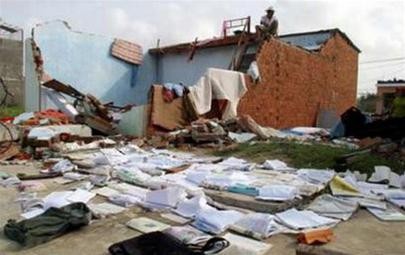 Soaked books and papers are placed in the courtyard of a damaged house in Da Nang on Monday
The government promised to deliver medicines and other necessities to prevent an epidemic caused by contaminated water.

It also handed over VND50 billion in relief aid for the six worst-off provinces: Da Nang, Quang Nam, Thua Thien Hue, Quang Ngai, Quang Tri and Kon Tum.
Yesterday Prime Minister Nguyen Tan Dung announced the release of 1.5 tons of food for the inhabitants of the six provinces.
Generous benefactors within and outside the nation have been donating big-time to ease the pain of villagers whose lives and livelihoods were severely disrupted. By noon on Tuesday, the people of Ho Chi Minh City had given VND4.2 billion.