The Vo Doi Nature Reserve is now U Minh Ha National Park, according to the government's decision.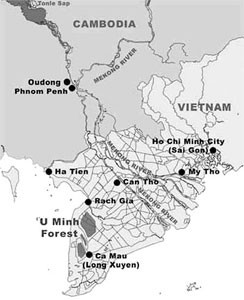 Map view of U Minh peat-swamp forest.


As a part of the larger U Minh Ha peat swamp forest in Ca Mau Province, the 8,286 hectares National Park, comprising of dozens of sub-regions and buffer zones, is the locale where plenty of rare flora and fauna species are living. It is also a good place for scientific researches and the provincial tourism development.
The old Vo Doi Nature Reserve is located in the plain of the Mekong Delta, and the maximum elevation at the site is only 2.5 m. Vo Doi is situated in U Minh Ha or lower U Minh, the southern of the two extensive peat-swamp forests in Kien Giang and Ca Mau provinces. The nature reserve is seasonally inundated and, therefore, supports a mixture of Melaleuca forest, seasonally inundated grassland and open swamp.
The three major vegetation types at Vo Doi Nature Reserve are 'semi-natural' (originally planted but no longer tended) Melaleuca forest, Melaleuca plantation and seasonally inundated grassland. Semi-natural Melaleuca forest covers a large area in the west of the site.
In the centre of the nature reserve, there are areas of grassland with scattered, young, naturally regenerating Melaleuca trees. On slightly higher ground, a grassland community dominated by P. vallatoria is found.
Vo Doi Nature Reserve and the surrounding area support high bird species richness. In particular, the area supports a high abundance and species richness of water birds, including small bitterns (Ixobrychus and Dupetor), Bronze-winged Jacana Metopidius indicus and Purple Swamphen Porphyrio porphyrio.
In addition, Woolly-necked Stork Ciconia episcopus has been reported to occur in the area to the north of the nature reserve, where it might breed. The reasons for the apparent absence of the larger water birds from the natural reserve itself are not clear but may include disturbance and habitat deterioration in the past, partly due to forest fires.
The National Park was founded to protect the ecosystem of the peat-swamp forest.