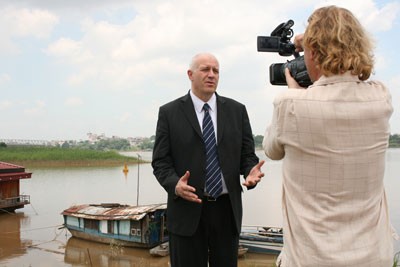 Bill Rammell stands by the Red River in Hanoi and talks about climate change (Photo: courtesy of the UK Embassy)
British Minister of State for Foreign and Commonwealth Affairs Bill Rammell, who is on a visit to Vietnam, has spoken about climate change, one of  the issues discussed at the recent ASEM Foreign Ministers' Meeting in Hanoi.
His government is concerned about the issue and passed the Climate Change Bill earlier this year and sponsored a new Asian Development Bank (ADB) study on "The Economics of Climate Change in Southeast Asia: A Regional Review," he said.
He underlined the importance of concrete actions to tackle the problem.
He said Vietnam is one of the places in the world most vulnerable to climate change. Just small changes in the sea level can have a devastating impact on the lives of many people, he said, pointing out that just a one meter rise in the river delta region in Vietnam can wipe out half the country's rice crop.
"We need your voices here in Vietnam to be heard and this issue matters to you and if we can do that, then I think we can ensure that people who depend on rivers in Vietnam can have a more secure future - this issue matters to all of us. As I've said, its time to put words into action."
He will leave Vietnam on May 27.