In line with the UK's aim of  building  partnerships with emerging markets like Vietnam, UK Cabinet  Minister, Dr. Vince Cable, Secretary of State for Business, Innovation and Skills, will visit the country from November 2 - 4.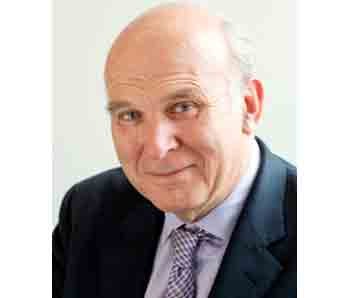 UK Cabinet  Minister, Dr. Vince Cable
During his visit, Dr. Cable will be received by senior leaders of the Government of Vietnam as well as the local authorities of Ho Chi Minh City. 

In HCMC, Dr. Cable will meet with representatives of both the British and Vietnamese business communities and open the first lecture in the International Financial Services Lecture Program, which was initiated by the Lord Mayor of The City of London during his visit to Vietnam this March.
Other prominent events will include the opening of the British Vietnam International School and a lunch with dynamic Vietnamese entrepreneurs.

In Hanoi, Dr. Cable will reaffirm the UK's commitment to building a business relationship with Vietnam while at the same time reinforcing the need for Vietnam to ensure it remains an attractive destination for foreign investment. 
He will witness the signing of three Memorandums of Understanding between the Wellcome Trust, the Institute of Chartered Accountants of England and Wales – ICAEW and the British University in Vietnam and their Vietnamese partners. He will also mark the inauguration of direct flights between the UK and Vietnam.

Speaking prior to his arrival in Vietnam, Dr. Cable said that the Strategic Partnership signed between Vietnam and the UK in 2010 included a joint commitment to double bilateral trade by 2013. One of the reasons for his visit was to keep up momentum towards that goal.

He said:  "There are many opportunities for British business in Vietnam and companies are excited about the longer term potential of this emerging market. I hope that we can work together to address outstanding challenges in the business environment so that trade between the two countries can flourish."

The British Ambassador to Vietnam Dr. Antony Stokes said: "Dr. Cable's visit aims further to enhance the implementation of the Strategic Partnership, and in particular the trade related elements of our agreement.  It aims to give impetus to our joint pledge to increase the two-way trade volume to US$ 4 billion and UK FDI in Vietnam to US$ 3 billion by 2013. . Dr. Cable will also take this opportunity to promote the Olympics Games and the Paralympics Games to be held in London 2012."