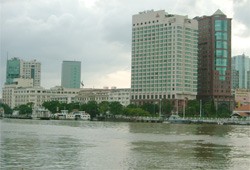 Ho Chi Minh City luxury buildings viewed from the Sai Gon River (Photo: Hoang Uy)
The Economist, a renowned U.K. magazine, says that Viet Nam's economy is thriving and increasingly powerful as the nation's poverty rates are dropping faster than any other country in the region.
Some hail Viet Nam as Asia's new tiger after 20 years of reform has cut poverty rates below China, India, and Philippines while bringing figures such as life expectancy and infant mortality to healthier levels than Thailand, according to the Economist.
Despite current difficulties as a developing country making the transition from a central economic system to a market economy, the magazine predicts that Viet Nam will thrive rapidly in the future.
General Secretary of the United Nations Kofi Annan has hailed Viet Nam's poverty alleviation as a good sample for other developing countries as the Government's Millennium Program targeting poverty has taken off.
To achieve such success, Viet Nam has aimed to harmonize economic development and social issues. Government initiatives have sought most importantly to narrow the gap between the rich and the poor in both urban and rural areas through dozens of national programs creating jobs and improving infrastructure such as traffic systems, dykes, schools, and hospitals.