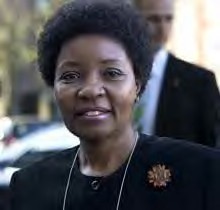 Dr. Asha-Rose Migiro
United Nations Deputy Secretary-General Dr. Asha-Rose Migiro is to pay her first visit to Vietnam on May 13.
During her stay in Vietnam, she meet with the Vietnamese Government, the donor community and the UN Country Team to discuss UN reform and the bilateral relationship between the UN and Vietnam as well as how the UN can best respond to Vietnam's evolving development needs.
Ms. Migiro will also hold meetings with Prime Minister Nguyen Tan Dung, Deputy Prime Minister Pham Gia Khiem, and Minister of Planning and Investment Vo Hong Phuc.
Migiro shared her thoughts that UN reform cannot just be reform on paper but has to be about delivering better development results.
"Vietnam is changing, and the UN must change with it. As Vietnam achieves Middle Income Status, the UN must adjust and prepare itself to deliver more effective support to the Government and people of Vietnam," she said.
According to her, Vietnam is progressing in moving towards a "One UN", which is based on the tripartite engagement under strong leadership by the Government, with a committed UN Country Team and a very supportive donor community.
The Deputy Secretary-General will have a keynote address at a meeting of the Tripartite National Task Force of Government, UN Country Team and donor representatives on the morning of May 13.
Migiro also plans to discuss the great progress made so far and the need to continue the progressive road to reform.
"With the strong support and commitment of the Government and the donor community, I firmly believe the UN in Vietnam can make a real difference," said the Deputy Secretary-General.
The One UN Initiative which was launched in February 2006 aims to enable the UN to deliver better development results for Vietnam.
The initiative includes five key pillars of reform, including One Plan, One Budget, One Leader, One Set of Management Practices and the Green One UN House.
Dr Asha-Rose Migiro took office as Deputy Secretary-General of the UN on February 1st 2007. She is the third Deputy Secretary-General to be appointed since the post was established in 1997.