The Viet Nam UNESCO Committee has just sent the People's Committee of Kien Giang Province official letter No. 162/BTK/06, informing that the Advisory Committee on the Man and Biosphere Program under UNESCO has approved Viet Nam's Kien Giang Biosphere Reserve.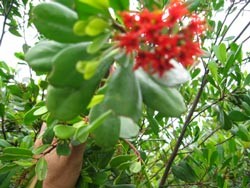 A valuable tree facing extinction was found on a mountain on Phu Quoc Island by Vietnamese UNESCO specialists
The approved over 1.1 million-hectare zone, including three major areas:  U Minh Thuong National Garden, Phu Quoc National Garden and protective forest along Kien Luong-Kien Hai sea, is home to many ecosystems of tropical forest, flora and fauna races and species listed in the world's Red Book.
 
Especially, Kien Giang Biosphere Reserve zone has the ecosystem of coral reefs, sea grass and sea tortoise.
 
UNESCO will have an official approval of Kien Giang Biosphere Reserve in October 2006.