Hundreds of hectares of shrimps have died in the Mekong Delta region because farmers began breeding far ahead of the right crop season.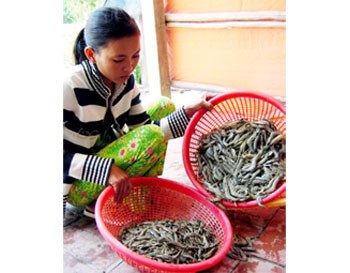 Shrimps are dying because of unseasonal farming in Soc Trang Province (Photo: SGGP)
Farmers started to breed over 204 million tiger prawns at the  beginning of this year in Tra Vinh Province, even as provincial authorities warned that it was far too early to breed and not the right time for the breeding season.
As a result, 9.2 million tiger prawns in over 96 hectares subsequently died in Cau Ngang, Duyen Hai and Tra Cu Districts.
Similar conditions also prevailed in Soc Trang Province, although the recommended time for shrimp farming was for March. Tempted by high rates, several households preponed breeding of shrimps over 700 hectares, to the beginning of the year.
In recent days, over 100 hectares of shrimps have been destroyed in Tran De and My Xuyen Districts and in Vinh Chau town due to bad weather and unseasonal breeding. In addition, poor qualities of shrimps were being bred.
According to Nguyen Van Khoi, deputy director of the Soc Trang Province Department of Agriculture and Rural Development, they have warned farmers not to breed shrimps until it is the right time to do so. But several farmers have continued to ignore advice and farm too early.
Besides financial loss, the most worrisome problem is that the polluted water will spread disease to the main shrimp crop which will begin later in March, said Khoi.
The provincial authorities have instructed district agricultural departments to try and prevent farmers from creating conditions in which shrimps continue to be destroyed in vast numbers.