The un-seasonal snowfall and cold weather in the Northern and Central regions has caused many cattle to die, boats to sink and rice crops to be infested with disease.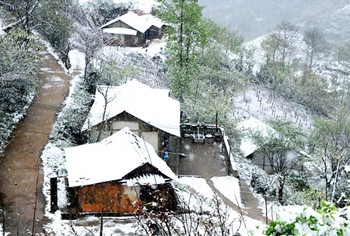 Snowfall in Sa Pa and Bat Xat districts in the northwestern province of Lao Cai (Photo: SGGP)
According to Trieu Sang Phuc, chairman of Cong Son Commune in Can Loc District of the northern province of Lang Son, within just three days from March 15, the commune reported 46 dead cattle.
Temperatures in the area had plunged to 1-2 degrees Celsius. In the neighboring commune of Mau Son, cattle were beginning to die due to the chilly weather conditions.
In Lao Cai Province, the mercury had fallen to 0 degrees Celsius in Sa Pa and Bat Xat districts.
As the cold weather has abruptly brought along a heavy snowfall, local residents were caught unawares and did not get time to move their herds of cattle that were scattered in the forest. Already four young cattle have died in Y Ty Commune of Bat Xat District and the number is likely to increase.
Ma Quang Trung, director of the Lao Cai Provincial Department of Agriculture and Rural Development said that in the beginning of the year, Lao Cai had lost 3,000 cattle heads because of severe cold conditions.
The provincial authorities are urging and guiding residents to protect cattle and plants from further harm.
Hoang Kim Giao, head of the Livestock Production Department said that in the last long-lasting cold spell, the country had lost over 60,000 cattle in 19 provinces.
The Ministry of Agriculture and Rural Development has proposed to the Prime Minister to assist farmers who have lost cattle or suffered damage of rice crops with VND30 billion (US$1.4 million).
Several boats in danger
The Central and Central Highlands Flood and Storm Prevention Center said that the sudden cold wave over the last few days had made the East Sea very rough with high waves and wind gales of level 8 blowing at 62-74 kilometers an hour.
Central province authorities have so far guided over 900 boats with 10,000 fishermen safely ashore.
About 100 boats, mainly from Quang Nam and Quang Ngai province are still in danger on the sea.
Yesterday, turbulent waves overturned a boat with a man and his two sons from Phu Vang District of Thua Thien-Hue Province. The 80 year old man drowned while his two sons, 52 and 49 years of age were saved by local residents.
A day earlier, one man was missing as his coracle was toppled by big waves in Binh Son District of Quang Ngai Province.
In the adjacent province of Quang Nam, the rough sea caused one fishing boat to break and float last Wednesday until the following afternoon when the provincial border soldiers towed the boat to the mainland.
Disease engulfs rice crop
Off-season cold and rainy weather has created havoc for agricultural production in the Northern Central region. Thousands of hectares of rice that was sprayed with insecticide and pesticide were washed off by rainwater.
Thua Thien-Hue Province has warned of the black streaked dwarf epidemic in 15 communes and wards, where over 1,100 hectares of rice has been plagued with disease and worms while another 150 hectares has been infected with the black streaked dwarf virus.
Local authorities are guiding farmers to take preventive measures against the disease.
The Quang Tri Province Plant Protection Department has also reported the ravaging effects of the disease in several areas of Cam Lo, Vinh Linh, Gio Linh and Thieu Phong districts.
Related article:
Unseasonal snowfall in northern Vietnam