Farmers of Tan An Commune in Long Thanh District of Dong Nai Province are in despair as vast tracts of valuable farm land is being continually contaminated with untreated wastewater flowing from the Sonadezi Company in the province.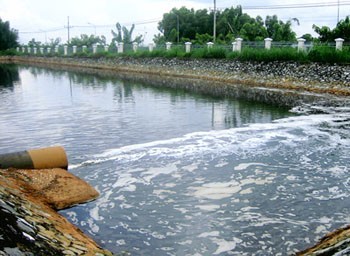 Sonadezi Company unscrupulously releases wastewater into the Dong Nai River (Photo: SGGP)
Nguyen Van Son, living in the vicinity of the company's wastewater sluice gates looks woefully at 6 hectares of what used to be rice fields and fruit orchards just a few years ago are now a grimy, polluted tract of land.
Several ponds of nearby households have also been so polluted that no fish or chicken can survive there any longer.
Nguyen Van Tinh, whose home is one kilometer from Son's , has to bear damages up to VND200 million (US$9,500) due to loss of cultivable land.
His 3.5 hectare durian, mango and mangosteen orchard has dried out and his two 3,000 square meter fish ponds have also become non productive.
Local residents have petitioned district authorities very often on this issue but have received no response.
Huynh Ngoc Trai, chairman of the People's Committee of Tam An Commune said that 40 households here cannot use their land for farming anymore due to wastewater pollution, yet no compensation has been provided to them by the company.
Tan An Commune has 300 hectares of rich agricultural land but over the years half the area has become toxic polluted.
Several wells in the commune are so polluted that residents have to buy water for daily use.
According to Vo Van Chanh, deputy director of the Department for Natural Resources and Environment in Dong Nai Province, Sonadezi Company has been releasing wastewater into the Dong Nai River since 2006.
The pollution near the company's wastewater treatment plant has now worsened. Since 2009, Chanh's department has issued several penalties on the company but little action has been taken.
Related article:
Company caught polluting Dong Nai River