Many issues relating to the wastewater and waste sectors in Vietnam were discussed during a two day conference in Ha Noi, 'Challenges in wastewater and waste sectors in Vietnam,' February 26 and 27.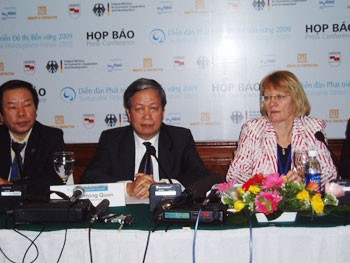 Minister of Construction Nguyen Hong Quan (L) and Mrs Karin Kortmann (R) attend the two day conference. (Photo: Thao Huynh)
It was organized by Inwent - Capacity Building International, co-financed by the Vietnam Ministry of Construction in association with the German Federal Ministry of Economic Cooperation & Development.
"The treatment of wastewater and the environment in Vietnam has improved in recent years. Urban areas have many changes, have become more beautiful, cleaner, however wastewater and solid waste treatment  and management in urban areas and industrial zones still seems too late. That is why many cases of pollution still appear, such as contaminated rivers, canals and why dumping grounds have become so polluted," Minister of Construction Nguyen Hong Quan said at the conference.
"I hope that international conferences will help us to get experiences and knowledge in treating polluted environments," Quan added.
Ngo Hong Quang, Head of Technical Infrastructure Department under Ministry of Construction said that the urbanization rate in Vietnam is around 30.5 percent. The projected urbanization rate by 2010 will reach 45 percent, with about 45 million urban residents. Rapid urbanization has burdened infrastructure and the environment.
He said that current situation of urban wastewater management in Vietnam is poor as combined sewage systems are commonly used for both storm water and wastewater.
Added to this are sewage systems that were mostly built many years ago and unable to cope. Most wastewater is not treated before being discharged into rivers and the sea.
Total capacity of all existing wastewater treatment plants is only 265,000 cubic meters per day and night, 10 percent of all need.
In order to overcome this situation, the government has looked for finance from counties like Japan, France and Denmark.
One recent wastewater management program in provincial towns was supported by the German government.
"Besides the heavy pressure of population growth and rapid urbanization, Vietnam is facing a lack of infrastructure and investment capital. We also lack people with adequate skills and management expertise.
"The most important thing is poor awareness by authorities and community", Quang said.
Many delegates from Hanoi Urban Environment Unit suggested that government should pay attention to international cooperation because Vietnamese do not yet have experience concerning industrial waste treatment.
Domestic and overseas training courses, workshops and seminars are necessary.
The government also needs to work on laws on waste management.
A representative of the German Federal Ministry for Economic Cooperation & Development, Karin Kortmann, Parliamentarian State Secretary, said Germany always makes a priority in environmental issues.
At present, Germany is financing 130 investment projects in the wastewater sector, covering 39 countries, at a cost of about €1.5 billion.
Every year, about €350 million is committed for German development cooperation activities in the water and sanitation sector.
"We have worked closely with Vietnam in the environmental sector since 2002. Currently, sewage systems are being enhanced and wastewater treatment plants have been set up in six provincial areas. Two or three further provincial capitals will be added soon and landfills are being built in two cities in the country.
"At the request of Vietnam, we are also beginning to invest in industrial wastewater treatment plants. These investment projects are worth up to €200 million, of which we are providing €142 million and Vietnam is contributing €58million," Kortmann added.
In order to encourage people to work together in environmental protection, Kortmann gave a story about her hometown, Dusseldorf, which sits on the banks of Germany's largest River, the Rhine.
Twenty years ago, it was so polluted that it was considered chemically contaminated and biologically dead but today, even the salmon have returned to the river. Kortmann trusts that a Vietnam, with the slogan 'Green-Clean-Beautiful,' will be a good destination for investors and international visitors.
Prof. Klaus Topfer, former Executive Director of the UN Environment Program, also talked at conference.
He and many other delegates from many countries gave their opinions about how to treat wastewater and on waste sectors in Vietnam.
The conference became a forum for Vietnamese delegates to gain experience and exchange knowledge about environmental management.
Many international scientists, environmental experts, leaders of provinces and cities in the country took part in the conference.