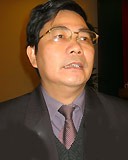 Mr. Cao Duc Phat
The Ministry of Agriculture and Rural Development (MARD) has plans to rejuvenate irrigation facilities before the storm season. The Sai Gon Giai Phong newspaper spoke with MARD Minister Cao Duc Phat.
Sai Gon Giai Phong: Rains in late 2004 and 2005 flooded many areas in the northern and central regions, but severe drought followed immediately. Why did the irrigation systems fail to function?
Mr. Cao Duc Phat: The irrigation systems have degraded. Deposits have raised the bottoms of rivers but dredging is not maintained regularly. Pumping stations built in the 1980s have also run down.
Even worse, reservoirs are unable to contain water at the designed capacity in the rainy season, resulting in shortage of water in the dry season.
Urgent repairs are needed for almost 1,000 reservoirs in Viet Nam now. How many reservoirs will be repaired this year?
MARD and provinces have listed 120 major reservoirs nationwide for urgent repairs and they are among 852 reservoirs that must be upgraded as soon as possible. We have proposed to the Government to spend VND700 billion on urgent repairs for the 120 major reservoirs.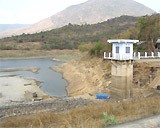 Suoi Hanh Reservoir in the central province of Khanh Hoa almost dried during the dry season
As the water level in general falls lower and lower, there has been suggestion to build a dam downstream to hold the water when necessary. What does MARD think?
It is a good idea and we are weighing possibilities. However, scientific studies will have to be conducted before the a final decision is made.
The State budget spends almost VND1 trillion or so every year repairing and upgrading irrigation facilities, but irrigation works are often unable to deal with flooding and drought. Why is this?
It is not always the case. Given the repairs and upgrades, the irrigation systems have effectively supplied water for crops, aquaculture activities and the population. However, about VND1.5 trillion is needed every year to repair and upgrade the irrigation facilities. As a result of the money shortage, the facilities have worked ineffectively to some extent.
Investments for irrigation often increase year after year but the cost of handling the aftermath of floods and drought also increases, instead of decreasing. Why is this?
There are cases in which investments were made without a specific focus, so the effectiveness is lower than expected. To overcome this, MARD has decided not to build any new irrigation facilities funded by MARD in 2005 and 2006. The ministry has only built works funded by money the Government has collected from selling Government bonds and official development assistance (ODA). MARD has also submitted to the Government what irrigation facilities should be built for urgent need in areas often hit by floods and drought.
How is the money for this year's irrigation works allocated?
In the north, it is necessary to upgrade Lien Mac drains and Nhue River drains, which serve water supply in Ha Noi, Ha Tay and Ha Nam; Lien Son Dam and Huong drains also do supply water in Thai Nguyen, Bac Giang and Vinh Phuc provinces; and drains in Thai Binh, Hai Duong, Nam Dinh, Thanh Hoa, etc provinces.
In the Mekong Delta, we'll concentrate on cementing canal banks and fighting intrusion of saltwater. In the central region, emphasis is put on upgrading reservoirs, and irrigation facilities in the Central Highlands and areas home to ethnic minorities.