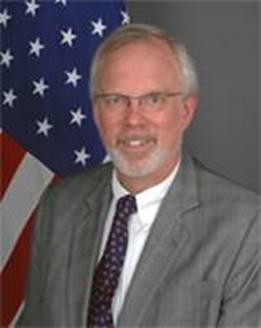 Ambassador David Bruce Shear (Photo: American Embassy Hanoi)
New United States Ambassador to Vietnam David Bruce Shear arrived in Hanoi on August 20, the American Embassy announced Monday.


"I look forward to my new assignment as U.S. Ambassador to Vietnam. The United States and Vietnam have achieved great progress in bilateral and regional cooperation in recent years, and I hope to build on that progress by working closely with our Vietnamese partners," Ambassador Shear said in the announcement.
Mr. Shear is a career diplomat who has specialized in the East Asian and Pacific region, according to the U.S. Department of State.
His diplomatic career spans almost thirty years, the embassy said. He was most recently Deputy Assistant Secretary for East Asian and Pacific Affairs at the Department of State in Washington. Previous assignments include Deputy Chief of Mission in Kuala Lumpur and postings in Sapporo, Beijing, Tokyo, and Washington D.C., according to the department.
He is studying Vietnamese and speaks Chinese and Japanese, the American Embassy in Hanoi said.
He replaces previous ambassador Michael Michalak, who departed Vietnam in February this year.