Many US businesses wish to access Viet Nam's emerging market in a stronger and faster manner, Californian politicians, investors and businessmen said while meeting with Deputy PM and Foreign Minister Pham Gia Khiem and his entourage during their second day in the US.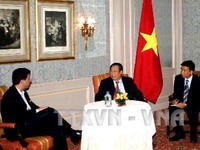 Deputy PM and Foreign Minister Pham Gia Khiem (C) talks with an US businessman during his visit to the US 
The hosts included California State Senator Leland Yee, Congressman Fabien Nunez, Speaker of the California State Assembly, the leadership of the Oakland port, the Executive Boards of Bantry Bay Ventures LLC, Bamney Investment, the East West Bank, and others.

Viet Nam is a potential market which has attracted the attention of American enterprises, trading groups and investors, they said.

While consultant companies want to bring US investors and businessmen to the Vietnamese market and help Viet Nam's companies make IPO at US stock exchanges, the leadership of the Oakland port expressed their willingness to share experiences in building, operating and handling port systems with Vietnamese partners.

Banking and financial groups meanwhile want to explore opportunities to open branches in Viet Nam, set up partnerships with Vietnamese banks and mobilise capital for investment in the country.
Senator Leland Yee and Congressman Fabien Nunez expressed their wish to promote the friendship and cooperation between California and Viet Nam, particularly Ho Chi Minh City and Da Nang, which have twin relationship with California. They put stress on economic and trade links, which, they said, should be lifted to a new height.

Congressman Fabien Nunez drew the Vietnamese guests' attention to the areas of information technology, bio-technology, cultural exchange and education, saying they should be the focus for cooperative ties between Viet Nam and California.

In his addresses, Deputy PM Pham Gia Khiem emphasized Viet Nam's wish to set up economic ties with the US and bolster them extensively and intensively with the aim of making the two countries trustworthy and equal trading partners.

"Viet Nam decided to build cooperative ties with California to be a model for its links with the US because it is a big state with a strong economy, a large Vietnamese community, and many American friends who have shown their support for Viet Nam," the Deputy PM said.

He revealed a scheme to hold a business forum between enterprisers from California and Viet Nam next summer and requested Congressman Fabien Nunez to work as co-President of the forum.