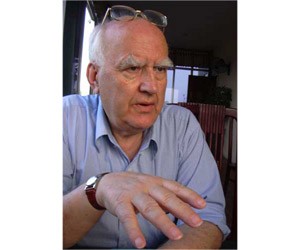 Mr.Len Aldis requests a fair judgement for Vietnamese AO victims
The secretary of the Britain-Vietnam Friendship Society has written to the U.S. Court of Appeals requesting a fair judgment for the Vietnamese victims of Agent Orange.
In his letter, Len Aldis says that although the war ended in 1975, millions of Vietnamese people are still affected by the chemical defoliant, which was sprayed on a massive scale from 1961 to 1972.
He says he hopes the U.S. court will side with the Vietnamese plaintiffs and watch the relevant films about the victims before they reach any conclusions.
Mr. Aldis has included evidence of what many Vietnamese people have had to bear for years, proof that he collected over 17 years.
Still on the subject of Agent Orange, 30 intimate black and white photographs by Doan Duc Minh showing the defoliant's effects on Vietnamese people went on public display in New York on Thursday.
The "Suffering and Smiles" exhibition at Supreme Trading, a gallery in Brooklyn, is the initiative of a high-school student from Newport, Sam Moehrke, who came up with the idea when he was visiting Viet Nam in February.
Sam says he was deeply moved by the photos of people his own age who had been born without limbs because of Agent Orange.
With the exhibition comes a book of the photographs - "Suffering and Smiles." The money raised from sales of the book will go towards helping the victims.
After the stint in New York City, Sam's plan is to display Doan Duc Minh's pictures at his school as well as in Albany in upstate New York, in San Francisco and perhaps in other American cities
At the show's opening on Thursday, a coordinator of the Viet Nam Agent Orange Relief and Responsibility Campaign, Merle Ratner, called upon the American people to help the Vietnamese victims of Agent Orange.