US Senators Elizabeth Dole and Lindsey Graham who represent the US textile and apparel groups, withdrew their temporary holds on legislation that would authorize the Bush administration to grant Viet Nam Permanent Normal Trade Relations (PNTR) status last Friday.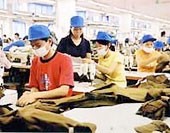 Textile and garment is one of the Viet nam's key industies

The move was made after the two senators received the US government's commitment that it will work to ensure that the US textile industry is not harmed by Viet Nam's accession into the World Trade Organization (WTO).

Earlier, US Trade Representative (USTR) Susan Schwab and Commerce Secretary Carlos Gutierrez sent a letter to the two senators, pledging that the US Commerce Department will monitor textile and apparel imports from Viet Nam and launch investigations if there is any sign of dumping.

The above-mentioned commitment between the US government and the two senators is seen as a move that would pave the way for the US Congress to approve PNTR status for Viet Nam.

The US Senate Finance Committee has approved PNTR status for Viet Nam while waiting for the Senate to vote. The House of Representatives leaders decided they will vote for PNTR approval on November 13.