The US Government remains committed to the principle of humanitarian assistance and is looking forward to an active and productive partnership with Viet Nam in the years ahead, according to a press release issued by the US Embassy on April 4.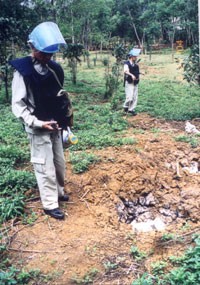 Workers sweep for landmines at Tan Lien Primary School in Huong Hoa District, Quang Tri Province
The US Government is now the largest donor of humanitarian assistance for mine action programmes in Viet Nam.
It has invested nearly 33 million USD in a broad spectrum of programmes to alleviate not only the impact on the health and livelihood of individual Vietnamese citizens, but also to aggressively remove the source of the problem by funding projects that locate, remove and destroy unexploded ordinance and landmines.
A recent US-funded project, Phase I of a UXO Landmine Impact Survey, was completed in 2005, with the clearance of more than 6,200 pieces of explosive remnants of war in Quang Binh, Quang Tri and Ha Tinh provinces.
Phase II is planned to commence this year and will expand the survey efforts to the central provinces of Nghe An, Thua Thien Hue, and Quang Nam, as well as Da Nang City.-Enditem
Source: VNA