About 25 programs will be implemented with the total capital of VND7 trillion ($314 million) to restructure the rice industry towards added value increase and sustainable development, according to a rice restructuring project by 2020.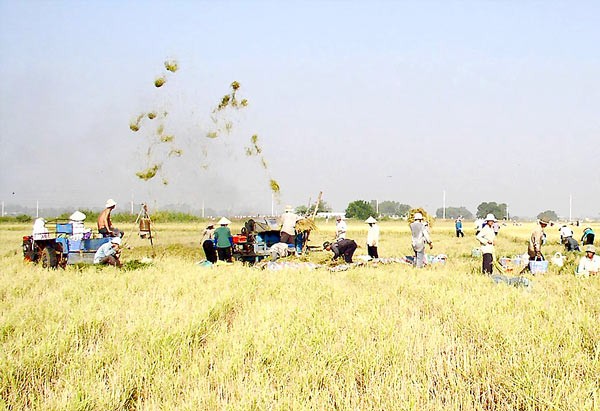 Rice harvest in Dong Thap province (Photo: SGGP)
The project was announced by the Cultivation Department at a seminar in the Mekong Delta city of Can Tho on October 11.
Talking about the project which is planning rice industry until 2030, the Ministry of Agriculture and Rural Development's agency said that it will focus on planning and infrastructure development.
Low yielding rice areas will be transferred into other crops, crossbreeding researches will be conducted and authorized agencies will map out rice development policies suiting new situation.
In addition, the programs will expand large scale production in accordance with market demand, boost mechanization and processing, build brand names and step up market development connectivity.
One of major works of the project is to develop irrigation system and upgrade traffic and electricity network for modern production.
The Mekong Delta, the Red River Delta and the South Central Coastal Region will need thousands of billion of dong for the restructuring project in the phase of 2017-2020.
According to plan, the country will maintain rice farming over about 3.8 million hectares to ensure food security and improve the use efficiency of these areas.
Rice farming will concentrate on high quality varieties for both local consumption and exports.