Local confectioners are poised to offer people nationwide a wide diversity of moon cakes with improvement on quality, packaging and delivery.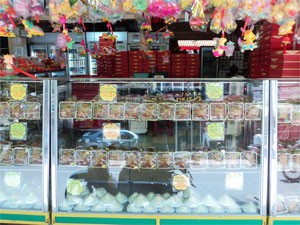 Moon cakes and lanterns are on sale at a HCMC-based candy shop (Photo: Minh Tri)
Moon cake market in this year's Mid-Autumn Festival is heated up with batches by batches of moon cakes turned out since late July.  
The statistics show that Kinh Do Corporation remains the biggest suppliers this year, debuting 2,000 tons of products.
Bibica Corporation and Dong Khanh - two other big names - increased their outputs by 15 percent and 10 percent respectively from last year's amount.
Local consumers can buy moon cakes at reasonable prices this year despite the accelerating inflation and 30-50 per cent escalation of ingredients' costs, which pushed the selling price up 10-20 percent.
A box of four normal one-yolk moon cakes, for example, costs around VND160,000 (US$7.7), while that of four normal two-yolk moon cakes can fluctuate between VND200,000 and VND250,000.
Price of a box of super-duper moon cakes with expensive ingredients such as bird's nests, fish fins, king crab's meat, collagen-soaked bean, is sold at least VND430,000 and some even reach VND2 million.
According to the confectioners, the quality of product, from content to packaging, is guaranteed to increase in direct proportion to its price.
In order to satisfy most customers who long for products with less fat and sugar, the ingredients as dry preserved squash, pork fat are mainly replaced with natural vegetable and grain ingredients.
These ingredients, namely almond, cashew nut, sesame, macadamia nut (a round nut from an Australian tree), are not only good for health, but also have soft and sweet flavor, which can please even picky customers.
The products' packaging this year is also carefully paid attention to with different eye-catching designs. The boxes of super-duper moon cakes particularly are even covered with luxurious materials. 
The investments on this year's products prove that the confectioners still have strong beliefs on the positive consumption rate of moon cakes, especially the expensive ones.
They have even managed to advertise for their moon cakes with full details of products and contacts for orders and delivery on different means of media to catch customers' attention.
This kind of service not only helps the confectioners themselves shoot up their purchasing rate but also supports the customers who don't have much time to go around for Mid-Autumn Festival shopping.