Vice State President Nguyen Thi Doan on June 5 delivered a speech at the opening ceremony of the 24th Global Summit of Women (GSW) in Paris, in which she stressed that diffidence is one of the main challenges women have to overcome to reach real gender equality.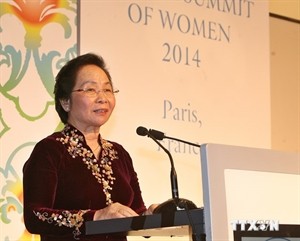 Vice State President Nguyen Thi Doan (Source: VNA)
Barriers in the national laws, as well as misconceptions about the role of women in family and society also lead to the inequality, Doan said, adding that societies cannot gain sustainable development without the efforts of women.
She also highlighted the great contributions of Vietnamese women to the country's socio-economic development, especially in economic restructuring and growth model change.
The GSW, held annually since 1990, aims to strengthen international awareness of gender equality and boost the role of women in all aspects of life, particularly in economic affairs.
This year's largest-ever event has attracted the participation of more than 1,300 delegates from 81 nations and territories worldwide.
On this occasion, Vice President Doan led the Vietnamese delegation to pay floral tribute to President Ho Chi Minh at his monument in Montreuil city, where he lived during the early years of the 20 th century.
Doan also met Montreuil Governor Patrice Bessac, who expressed his hope to further strengthen connections between the two countries, and between Montreuil and Vietnamese localities, and join efforts to surmount Agent Orange/dioxin consequences in Vietnam.
Bessac also stated that the French Communist Party hopes current issues in the East Sea, following China's illegal placement of a giant State-owned oil rig in Vietnam's waters, will be solved through peaceful negotiations on the basis of international law.