Since early morning of Feb. 11, the People's Committee of Quang Ngai and the Quang Ngai Agricultural Products Joint Stock Company began handing out compensation money to support victims of the recent fire that burnt the entire Quang Ngai Market.
Quang Ngai Market, the largest in the central province of Quang Ngai, caught fire early morning on Feb. 9, burning down about 680 shops and more than 600 tonnes of goods, worth more than VND120 billion (US$5.7 million).
According to a report released by the Quang Ngai People's Committee, initial losses are estimated at VND150 billion, but total losses may exceed VND200 billion ($9.6 million).
Ngo Van Tuoi, director of Quang Ngai Agricultural Products Joint Stock Company which manages the market, said each trader lost from VND200 to 250 million in the fire and as many as 417 businesses were affected.
Electric short circuit is suspected to be the cause but police say market authorities were still waiting for an official report from investigators.
Tuoi admitted that provincial authorities have asked the municipal office to establish a steering committee to determine the cause of the fire and estimate losses.
Local authorities also suggested providing VND5 million ($240) from the municipal budget to each vendor, while the Quang Ngai Agricultural Product Joint Stock Company pledged a further VND3 million ($140). The city will arrange new location for shops, so that businesses can resume operations within a month.
Every trader will get an initial subsidy of VND3 million per month from the company in three months and receive a support of VND5 million from local authorities.
The city has agreed to build a temporary market at an exhibition centre on Pham Van Dong Street and until end of February, the city will also plan a budget of VND28 billion to stabilise prices.
The Vietnam Fatherland Front Central Committee has decided to donate VND500 million to victims of the Quang Ngai Market fire.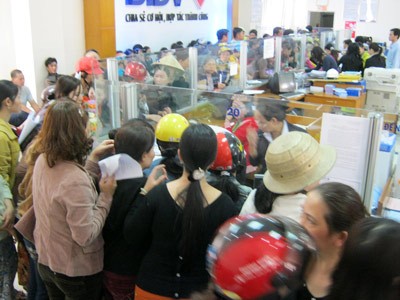 Victims of Quang Ngai market fire receive compensation money (Photo: SGGP)
The VFFCC appreciated the efforts of the provincial Party committee, organisations, relevant agencies, police, army and local people in rescuing and quickly dealing with the consequences of the fire.
The committee expressed its hope that traders will support each other and join hands with local authorities to overcome difficulties and stabilise their lives.
Phan Dinh Minh, who had worked for more than 40 years in the market and also owned some clothes shops, wondered why they encountered this kind of misfortune.
They had lost all their goods including clothes brought in from Ho Chi Minh City and Hanoi, worth billions of dong.
'All our family's fortune has been reduced to ash. We don't know how to pay off our debts anymore,' he cried.
He welcomed the authorities' timely support to help the victims in the time of despair and desperate distress.