The Prime Minister has recently issued a decree to restructure the water improvement project of Ho Chi Minh City. Under this decree, Deputy Chairman of Ho Chi Minh City People's Committee Nguyen Van Dua later directed the Natural Resources and Environment Department and the Management Board of the environmental improvement project to actively prepare for the restructuring.
The total budget for the project is US$100 million, initially planned with US$70 million loan from the ADB, US$1.8million non-refundable aid from Norway and US$28.2 million balance from the city's budget.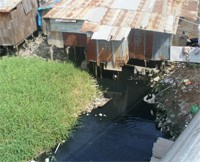 Tau Hu Canal in Ho Chi Minh City needs dredging (photo: Uyen Phuong)
The project is supposed to upgrade infrastructure through improvement of the drainage system of Hang Bang canal and to build a waste collection and transportation system, hygienic landfills, and two incinerators. The project also aims to improve the environment of Ho Chi Minh City through an industrial pollution control program, encourage plants to take loans from circulating funds to combat pollution and to build air monitoring facilities; and enhance the city-dwellers' environment-friendly awareness through community education programs.
Once restructured, the project will focus on the improvement of Hang Bang canal drainage and the environment.
Currently, the ADB loan for this project is just around US$32.8 million, the reduced funds of US$37.2 million will be transferred to another project: "Urgent relief of natural disasters in 2005".