Viet Nam pays special attention to combating corruption and preventing waste of foreign official development assistance (ODA), a senior Vietnamese diplomat has said.
Deputy Minister of Foreign Affairs Ho Xuan Son made the affirmation when being asked about Viet Nam's reactions to the news reported by Japanese and other foreign media that Japan's Pacific Consultants International (PCI) had allegedly bribed Vietnamese officials to win a bid for the East-West Highway project in Ho Chi Minh City using Japanese ODA capital.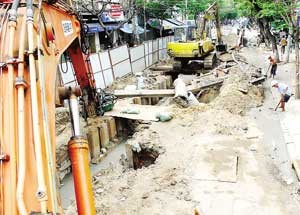 Viet Nam has used a lot of official development assistance for road construction
Mr. Son said that the Government and people of Viet Nam appreciate Japan and other countries providing aid to Viet Nam over the past years.
"As a poor and war-torn country, Viet Nam cherishes every penny, especially aid granted by foreign countries," said Mr. Son. "The fact is that Viet Nam has managed and used ODA funds granted by Japan and other countries appropriately."
He quoted statistics saying foreign ODA to Viet Nam has increased annually from US$3.7 billion in 2006 to US$4.4 billion in 2007 and US$5.4 billion in 2008. Japanese aid has also risen correspondingly from US$835 million in 2006 to US$890 million in 2007 and US$1.1 billion in 2008.
These ODA funds have made a significant contribution to Viet Nam's socio-economic development programs, especially infrastructure construction and poverty reduction projects, said Mr. Son.
According to Mr. Son, on hearing the news, the Vietnamese Ministry of Foreign Affairs and other relevant agencies have looked into the case seriously. Even though Viet Nam and Japan have not yet signed a bilateral agreement on legal cooperation, Viet Nam is willing to cooperate with Japan to clarify the case in accordance with Vietnamese laws and agreements already signed by the two countries, said Mr. Son.
Mr. Son went on to say that Viet Nam has asked the media of both countries to report the case honestly or stop reporting until the investigations are complete and the findings are made public. However, the information provided by the Japanese side remains incomplete and not in compliance with Viet Nam's legal procedures. In addition, the Japanese media have produced biased reports and even misleading information about the case, raising suspicions about Japan's ODA policy for Viet Nam as well as Viet Nam's determination to combat corruption.
Mr. Son said that the Ho Chi Minh City Municipal Department of Planning and Investment and the East-West Highway project management unit recently made reports, testifying that the bidding process had taken place according to Vietnamese law and under the strict supervision of the Japan Bank for International Cooperation (JBIC). The project management unit affirmed that there were none of the negative actions as reported by the media.
Mr. Son said that the Vietnamese Government will continue to work closely with the Japanese Government to bring the case to light. He also proposed that Japanese and Vietnamese businesses involved in the project, including contractors, consultants and investors, proceed with it to ensure its quality and the pace of construction.