National carrier Viet Nam Airlines yesterday signed deals with Airbus to buy 30 passenger jets for around US$3.8 billion in the largest-ever single purchase by the state-owned carrier.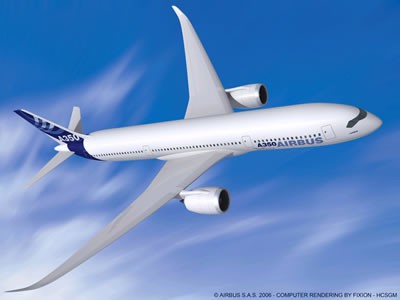 An Airbus A350 XWB
Under contracts with the giant European aircraft maker inked in Ha Noi, Viet Nam Airlines bought ten 350-900XWB aircraft and ten A321-200s while the Viet Nam Aircraft Leasing Corporation, co-owned by Vietnam Airlines and several other state firms, bought ten A321-200s.
The 30 Airbus jets have a total catalogue price of nearly US$3.8 billion. The first A321s are due to be delivered by 2012 and the first wide-body, long-haul A350s by 2016.
Vietnam Airlines, which hopes to become one of Asia's leading carriers alongside Cathay Pacific and Singapore Airlines, last month signed a deal with US aircraft maker Boeing for twelve 787-8 Dreamliners.
The carrier currently operates direct flights to 26 major cities in Asia-Pacific and Europe, and plans to launch direct flights to Los Angeles late next year.
Boasting 47 aircraft, including ten Boeing 777s, ten Airbus A320, eleven A321 and four A330, Vietnam Airlines wants to expand its fleet to 85 aircraft by 2015 and 110 by 2020.
In related news, Japan's Mitsubishi Heavy Industries last month said it would become the world's first manufacturer to set up an aircraft-related production plant in Ha Noi, with a facility due to open next year.