Economists, scholars and representatives of countries and international organisations at an annual conference on development cooperation between Switzerland and the Mekong River region praised Viet Nam as a model of economic development in the region.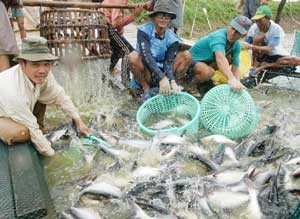 Harvesting fish in the Mekong Delta
Though poverty still exists in Viet Nam, the country with its tremendous growth is effectively the economic model for the Mekong region, participants to the conference said.
They added that for the past 12 years, Viet Nam has pursued a policy of radical economic regeneration under the renewal (Doi Moi) process. The country joined the World Trade Organisation at the beginning of last year and this was key to Viet Nam's integration into the global economy, they said.
This year's conference entitled "Switzerland and the Mekong region – Development under the Banner of Food Security and Globalization was held in Fribourg, Switzerland, on August 22 by the Swiss Agency for Development and Cooperation (SDC) and the State Secretariat for Economic Affairs (SECO). The event drew over 1,700 participants.
The participants also discussed challenges and successes in cooperation between Switzerland and countries in the Mekong River region through projects which are being carried out in Laos and Viet Nam.
Switzerland has so far helped Viet Nam shape its economic growth on environmentally friendly and socially responsible lines and especially to use the considerable potential of small and medium-sized enterprises as part of the renewal process.
Speaking at the conference, Viet Nam's Counselor, Permanent Mission to the United Nations in Geneva Dang Ngoc Minh stressed that Viet Nam regarded successes in the implementation of commitments to join the WTO and economic reforms as a firm foundation for the development of the economic and diplomatic relations between Viet Nam and Switzerland.
He said Viet Nam hopes to receive more support from the Swiss government and people.