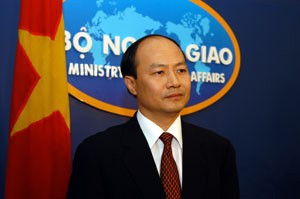 Foreign Ministry Spokesman Le Dzung
Viet Nam once again asserted its sovereignty over the Spratly and Paracel archipelagoes, stressed Foreign Ministry Spokesman Le Dzung on Dec. 28 while responding to a querry by a Viet Nam News Agency correspondent.
Regarding a report by the Chinese magazine World Military Affairs saying in December that China, based on its 1992 Ordinance on Territorial Sea and Contiguous Areas and the 1996 Declaration on the Baselines of Territorial Sea, as from Nov. 1, 2005 built its sovereign markers at several points on the baselines of territorial sea, including some on the Paracel archipelago of Viet Nam, the spokesman said: "Viet Nam has sufficient historic evidences and legal foundation to prove its indisputable sovereignty over these two archipelagoes."
He continued: "As stated in the declarations by the FM Spokesman in 1992 and 1996, Viet Nam does not accept any regulations on territorial sea and adjacent areas, the baselines as well as any activities of any countries on the Spratly and Paracel archipelagoes of Viet Nam. China's erection of territorial markers on the Paracel archipelago was a violation of Viet Nam's sovereignty, so it is completely of no value."
"Viet Nam once again affirmed its intention to settle all disputes on the sea between related countries through peaceful solutions based on the mutual respect of independence and sovereignty of each other, in accordance with international laws and practice, especially the United Nations' 1982 Convention on Sea Laws and the spirit of the 2002 Declaration of Conducts of Parties on the East Sea, in a bid to strengthen friendship and cooperation, and to maintain peace and stability on the East Sea," the spokesman concluded.