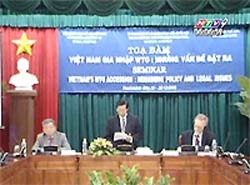 A recent seminar on Viet Nam's WTO accession.
Viet Nam signed an agreement with Australia on the former's accession to the World Trade Organization (WTO) on March 2, 2006 in Ha Noi, after 11 rounds of bilateral negotiation during the past four years.
In the final round of the WTO negotiation in Canberra (Australia) in October 2005, the two countries reached agreements in principle concerning the opening of their markets for goods and services as well as the most-favored-nation status for Australian enterprises.
As one of the Viet Nam's top seven business partners, Australia is currently the fourth largest exporting market of Viet Nam with the bilateral trade volume in 2005 reaching around AU$4.4 billion (US$3 billion).
The signed agreement between Viet Nam and Australia will greatly contribute to Viet Nam's entry to WTO, said the Vietnamese Trade Minister Truong Dinh Tuyen.
Viet Nam have yet to conclude bilateral negotiations with the U.S, Mexico, Honduras, and the Dominican Republic.
Among the four countries, the US is currently the only one Viet Nam have issues to be ironed out, commented Mr. Tuyen.
However, according to the Trade Minister, Viet Nam and the US are urgently resolving existing matters in preparation for the final round of talks scheduled for March, 2006.