For decades on end, pedicabs - three-wheeled motorbikes with open cargo bins up front - have been used to transport virtually every kind of product available in Viet Nam but as of January 1 next year, they will be banned nationwide.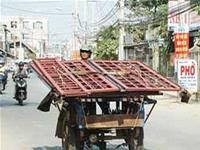 The ubiquitous pedicab, called "xe ba gac" in Vietnamese. It usually transports long pipes and large frames jutting out, creating risks for passers-by. (Photo: Tuoi Tre)
Though this is a relief for most motorists and pedestrians, it is also an imposing question of survival for some 60,000 HCMC families who have depended on the vehicles for their livings.
Under Resolution No. 32/2007/NQ-CP, all homemade vehicles, whether motorized or not, including delivery pedicabs and those with past expiration dates will be outlawed. If found driving in city streets, they are to be confiscated and sold as scrap.
Nguyen Hong Lai of District 4, Ho Chi Minh City, however, said he has driven a pedicab for the last 15 years to support his whole family.
Lai told Sai Gon Giai Phong no one will hire him as he is too old, lacks education and is not strong enough to do other manual work. "When the pedicab is banned, what am I to do?", he lamented.
Some have suggested a compromise be struck and the ban extended to allow pedicab drivers to re-train for new vocations. Others say pedicabs should only be prohibited on certain streets, not in market areas.
Since 2002, the pedicabs had already been banned on certain downtown routes.
Yet pedicabs remain the preference of many small traders needing delivery access to narrow alleys at reasonable prices.
One Ms Na, an owner of a small construction materials shop in District 8, said pedicabs are the top choice for transporting small quantities of long sheets of corrugated steel for roofing and reinforcement rods.
"Trucks are simply too big and expensive", she said, "For the same load, trucks cost at least three times as much."
Market management authorities agree many goods are transported to markets most efficiently by pedicabs that can more cost-effectively reach shops tucked away inside the myriad alleys behind all the city's main streets.
In related news, Prime Minister Nguyen Tan Dung recently instructed the Ministry of Industry and Trade to grant licenses to competent enterprises to produce, assemble and import motorized tricycles for the disabled.
He told the ministries of Health, Labor, War Invalids and Social Affairs, and Transport to issue regulations governing the use of such vehicles and for the first time issue specific drivers' licenses for them.
However, since many of HCMC's 40,000 disabled people are using homemade motorized vehicles, they worry they too will have to scrap them when the pedicab ban comes into effect in a few days' time.