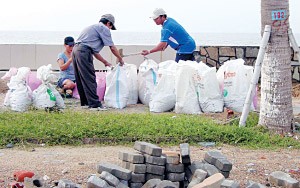 Yesterday, villagers near Da Nang prepare sand bags and large bricks to reinforce roofs as a precautionary measures for typhoon Cimaron
Monday, Deputy Prime Minister Nguyen Sinh Hung ordered the evacuation of all residents from the central provinces' villages within 48 hours in preparation for the landfall of Typhoon Cimaron.
At 10pm on Tuesday, Typhoon Cimaron was moving west at 10-15kph and was forecasted to grow in intensity to a strong hurricane this afternoon.
Forecasters projected that over the next 48 hours, the super storm will move west by southwest at a speed of 15kph arriving tomorrow morning and bringing with it rough seas and torrential rains to central Viet Nam.
The Deputy Prime Minister told the central weather bureau to keep close tabs on the storm at a meeting in Ha Noi presided over by the central storm committee.
Regarding the evacuation, he asked local authorities, border guards and emergency crews to evacuate all people living in coastal regions before 5 pm November first.
He immediately ordered officials to warn all fishing boats at sea of the coming typhoon and advise them to take immediate shelter.
Just a couple hours ago, in Da Nang, the Minister of Agriculture and Rural Development issued directives for local officials to assist all people in the storm's path. An amount of VND100 million was provided to the Hoa Vang district for providing provisions for the incoming evacuees.
Quang Nam province was told to immediately evacuate people in threatened areas and provide them with food. Nearly 2,000 ships and 10,000 fishermen have come ashore as a precautionary measure. However, there are 9 boats with 85 people aboard remaining offshore and currently out of contact with the mainland.
In Hue, over 12,000 families are moving to safety while most of their homes, destroyed by Xangsane, have yet to be rebuilt. People in the lowland areas of Thuan An, Phu DIen, and Phu Thuan are rushing to higher ground before the typhoon surges ashore.
Local rescuers yesterday distributed 1,500 lifebelts to people near the coast. Up to 300 tons of food and 30 tons of instant noodles have been delivered to the evacuees in preparation.