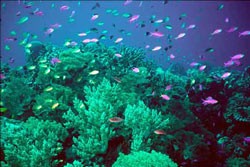 A coral reef harbors as much life as a rainforest
Viet Nam has reiterated its full commitments to the UN Convention on the Law of the Sea (UNCLOS) and called on coastal countries and territories to strengthen cooperation for maritime security.
The statement was made by the Permanent Deputy Representative of the Vietnamese UN mission, Nguyen Tat Thanh, at a UN General Assembly plenary session entitled "Ocean and the Law of the Sea" on Dec. 7.
Thanh emphasised that Viet Nam is making efforts to complete its legal framework on ocean and sea-related issues.
The National Assembly is entering the final stage of considering the Law of Vietnamese Sea Waters, said the Vietnamese diplomat.
He added that Viet Nam has signed and ratified the Tokyo Regional Cooperation Agreement on Combating Piracy and Armed Robbery against Ships in Asia.
Thanh said the country is also strictly abiding by the Declaration of Conduct (DOC) in the East Sea which involves other members of the Association of Southeast Asian Nations (ASEAN) and China. It has participated in a number of programmes and projects on oceanographic research and protection and conservation of the sea environment.
Viet Nam has been consistent in its policy to build mutual confidence among related parties in an effort to maintain peace and stability in the region as well as committed to tackle East Sea-related disputes through peaceful solutions in line with international conventions, including the UNCLOS, said the Vietnamese diplomat.
With all these efforts, Viet Nam has shown its full respect to the UNCLOS and expected that other signitories will also discharge their obligations, emphasised Thanh.
The UNCLOS has been so far ratified by 152 countries and territories.