Viet Nam and Cambodia have agreed upon 26 more positions for planting landmarks along their border, bringing the total land border markers between the two countries to around 200.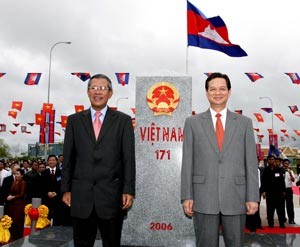 Vietnamese PM Nguyen Tan Dung (R) and Cambodian PM Samdech Hun Sen attendance in the inauguration ceremony of the first Border Marker between Moc Bai, Vietnamese Tay Ninh Province and the Bavet commune in Chantrea district, Cambodian Svay Rieng Province, Sep. 27, 2006.
The agreement was reached at the fourth session of the Viet Nam-Cambodia Land Border Joint Technical Sub-Committee, which took place in Cambodia 's capital city of Phnom Penh from November 30 to December 2.
During the meeting, the two sides also agreed on various measures to speed up the process of demarcation and landmark planting in order to complete the work prior to the end of next year.
The Vietnamese delegation to the session was led by the National Border Committee's Vice Chairman Nguyen Hong Thao, who is also a standing member of the Viet Nam-Cambodia Joint Committee for Demarcation and Landmark Planting and head of the Viet Nam-Cambodia Joint Technical Sub-committee.
The Cambodian delegation was headed by Long Visalo, Secretary of State of the Ministry of Foreign Affairs and International Cooperation and head of the Cambodia-Viet Nam Joint Technical Sub-committee for Demarcation and Landmark Planting