Viet Nam, Cambodia and Laos agreed on the T-junction point of their land boundaries in Ha Noi on August 26.
An agreement to this effect was signed by Vietnamese Deputy Foreign Minister Vu Dung, Senior Minister in charge of Border Affairs of the Council of Ministers of Cambodia Var Kim Hong and Lao Deputy Foreign Minister Phongsavath Boupha.
Vietnamese Prime Minister Nguyen Tan Dung hailed the signing, calling it "an event of major historic significance that paves the way for the three countries to cooperate for mutual development and practical benefits."
Under the agreement, the T-junction point was defined to be on a mountain peak which is 1,086 m above the sea level where the borderlines of Viet Nam's Kon Tum province, Laos' Attapu province and Cambodia's Rattanakiri province meet.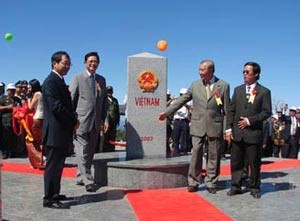 An inauguration ceremony was held earlier this year for a border marker stone of Viet Nam, Laos and Cambodia (filed photo)
The border crossing was drawn in a map that was attached to the agreement and was verified by the three sides.
The border crossing agreement was made in the spirit of upholding the principles of equality and accuracy to ensure the tri-junction point is clear, easily recognizable, and favorable for the management of the three parties' borderlines.
The agreement was also made to ensure that the national boundary of each country which was defined in the existing border treaties agreed by the three countries is not changed.
The signing of this agreement reflected the determination and spirit of solidarity and friendship of the governments and people of Viet Nam, Laos and Cambodia in settling border and territory-related issues.
At the signing ceremony, all three countries' representatives affirmed their resolve to complete works related to the on-the-field demarcation of their land borders.
They pledged to spare no efforts to build, protect and manage the shared border into the one of peace, friendship, cooperation and development to support the implementation of the Cambodia-Laos-Viet Nam Development Triangle program as agreed by the three prime ministers.