Party General Secretary Nong Duc Manh on Tuesday received Cambodian Deputy Prime Minister and Minister of Foreign Affairs and International Cooperation Hor Namhong during his working visit to Viet Nam.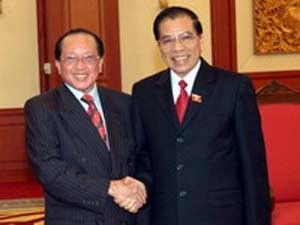 Mr. Nong Duc Manh (R) and Mr. Hor Namhong in a meeting on Tuesday
The General Secretary spoke highly of the first visit to Viet Nam by Mr. Hor Namhong in his position as Deputy PM and Minister of Foreign Affairs and International Co-operation. He said he believed that the visit would make great contributions to consolidating and boosting the current strong relationship between the two countries. 
Mr. Manh also said that the two countries must increase the exchange of visits by high-ranking officials and delegates at lower levels to promote the mutual understanding and strengthen their relations under the motto "good neighbors, traditional friendship, comprehensive cooperation and long-term sustainability".
As for international affairs, both two sides agreed to continue to cooperate with each other and within other member economies of ASEAN, in the region and international arena.
The same day, Prime Minister Nguyen Tan Dung also held a meeting with Deputy PM Hor Namhong to prepare for the upcoming 8th session of the Viet Nam-Cambodia Joint Committee on economy, culture, sciences and technology cooperation.
Speaking at the meeting, PM Dung stressed on the need for close cooperation between the two countries in commerce, transportation, education, industry, tourism and border security.
Cambodian Deputy Prime Minister expressed his hope that the Vietnamese Government would continue to help Cambodia in all aspects, including the project to plant rubber trees, mineral surveys, iron ore exploitation, airline expansion, the building of a hydroelectric plant in Se San river and planting of border markers.