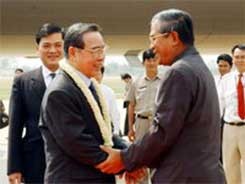 Cambodian PM Hun Sen welcomes Mr. Khai at the Pochentong International Airport.
The memo on the implementation of agreements between Viet Nam and Cambodia under the cooperation frameworks of the Greater Mekong Subregion to facilitate cross-border cargo transportation was recently signed by the two Prime Ministers (PMs).
Also, the two PMs witnessed the signing of other three cooperative agreements on Viet Nam's assistance to Cambodia to produce border landmarks, border medical quarantine facilities, communications cooperation plans.
The visit aims to develop and strengthen the mutual friendship and comprehensive co-operation in all areas, as well as to speed up implementation of high-level co-operative agreements between the two countries.
During their talks, the PMs agreed to increase meetings and exchange of visits by staff members of ministries, agencies and localities, aiming at accelerating the implementation of high-level agreements and strengthening the close relationship and mutual trust and understanding between the two peoples.
On this occasion, PM Khai thanked the Cambodian Government and people for their facilitation of the Vietnamese people's life and work in Cambodia. The two PMs pledged to continue facilitating the lives of the people of each side and treating them equally.
Moreover, PM Khai and PM Hun Sen also exchanged views on regional and international issues of mutual concern, affirming that Viet Nam and Cambodia will continue to cooperate closely with each other and with other countries under the Association of Southeast Asian Nations (ASEAN) and the Asia-Europe Meeting (ASEM), as well as the regional frameworks, such as the Greater Mekong Subregion (GMS, comprising Cambodia, the People's Republic of China, Laos People's Democratic Republic, Myanmar, Thailand, and Viet Nam), the Mekong River Commission (MRC), the West East Cooperation (WEC), the Ayeyawady-Chao Phraya-Mekong Economic Cooperation Strategy (ACMECS) and the cooperation among Cambodia-Laos-Myanmar-Viet Nam (CLMV).
A join statement between Viet Nam and Cambodia was signed after the talks.
Before the talks, PM Khai laid a wreath at the Independence Statue and the Memorial to Fallen Vietnamese Volunteers in Phnom Penh.
On March 7, PM Khai and his delegation visit the Cambodia People's Party (CPP) President Chea Sim and King Norodom Sihamoni. The PM also joins a Vietnamese-Cambodian Enterprises Forum on the same day. Nearly 60 Vietnamese enterprises have accompanied the PM at the working visit to Cambodia.