A comprehensive strategic partnership between Viet Nam and China will meet the basic interests and common wishes of both nations to continue the traditional relations founded by Presidents Ho Chi Minh and Mao Zedong and fostered by other leaders of the two countries, stated Prime Minister Nguyen Tan Dung.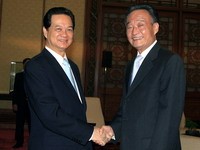 Prime Minister Nguyen Tan Dung meets Chairman of the Standing Committee of the National People's Congress of China, Wu Bangguo
During his talks with Wu Bangguo, Chairman of the Standing Committee of the National People's Congress of China, in Beijing on Oct. 23, the Vietnamese PM said he hoped that the two countries would successfully coordinate with one another in implementing existing agreements to develop the relations so as to form a comprehensive strategic partnership.
The Vietnamese government leader, who began his official China visit on Oct. 22, affirmed that the Party, State and people of Viet Nam attach great importance to and do their utmost to develop their all-round and long-term cooperative ties with China under the motto of "friendly neighborliness, comprehensive cooperation, long-term stability and looking towards the future" and in the spirit of "good neighbors, good friends, good comrades, and good partners".
He appreciated the outstanding achievements recorded by the Chinese people over the last 30 years of open-door reform and socialist construction imbued with Chinese characteristics.
He spoke of his confidence that China's strong development will contribute to the acceleration of the world's economic development, thus making positive contributions to peace, stability, cooperation and development in the region and the globe as a whole.
Chairman Wu welcomed the Vietnamese PM's visit and said that the Chinese Party, Government and people place great importance on the friendship and cooperation his country enjoys with Viet Nam.
He said he believed that the success of the Vietnamese leader's visit, particularly the common opinions shared by PM Dung with China's Party General Secretary and President Hu Jintao and PM Wen Jiabao, would accelerate the comprehensive strategic partnership between the two countries.
He congratulated Viet Nam on its recent achievements and expressed his hope that the Vietnamese people will make even greater achievements in the development and construction of their nation.
He expressed his thanks for the invitation to visit Viet Nam from National Assembly Chairman Nguyen Phu Trong and said he plans to do so at an appropriate time in the future.